Carmichael Toastmasters Celebrates 63 Years
Carmichael, CA | By Jennifer Harris, Carmichael Toastmasters
Share this pic with friends!
Carmichael Toastmasters club members are well into their 63rd year. Photo courtesy LaWanna Parker, Carmichael Toastmasters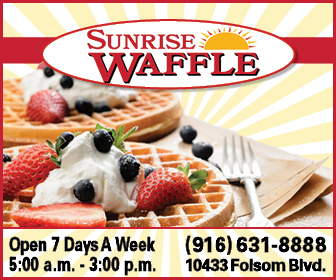 CARMICHAEL, CA (MPG) - Carmichael Toastmasters kicked off its 63rd year as a public speaking club with an open house celebration attended by a diversity of attendees including decades-long members, new members, guests, and Toastmasters District 39 dignitaries.
Carmichael Toastmasters exists to provide a supportive, instructive place to practice public speaking skills and to learn leadership by doing. No previous experience or affiliation is required to join. Most members initially visit or join a club to conquer the fear of public speaking or to fix a habit of using crutch words such as "you know" or "um" or to learn how to run a vibrant, productive meeting that doesn't waste time.
Carmichael Toastmasters originated as an outgrowth of the Pacific Bell (now ATT) office complex on Watt Avenue near Marconi Avenue. Dorothy Smith, a former PacBell employee and currently the most longstanding member of the club, was named "Queen of Carmichael Toastmasters" and accepted a commemorative certificate on behalf of the Club. Longtime member Bill Weir was named Carmichael Toastmaster of the Year. Among his contributions to the club are a captivating storytelling style and expertise in grammar.
Club Treasurer Susan George gave a speech remembering Carmichael Toastmaster legends Tom Ralph, Buz Dunbar, and Gurdon Smith, to name a few. Caryl Netzley spoke about joining Toastmasters to get rid of her crutch word "like" and explained "WIIFM" (What's In It For Me) for those considering joining.
Representing District 39 leadership were Program Quality Director Kristi Beres and Area 81 Director Reham Nawar. The name "Toastmasters" comes from a person's mastery of giving a toast at a banquet, wedding, or other social environment.
Carmichael Toastmasters is an early morning club that meets every Monday from 6:30am-7:30am at Denny's at Watt Avenue and Auburn Boulevard.
www.2213.toastmastersclubs.org
Toastmasters International is a worldwide nonprofit educational organization that empowers individuals to become more effective communicators and leaders. Headquartered in Englewood, Colo., the organization's membership exceeds 357,000 in more than 16,600 clubs in 143 countries. Since 1924, Toastmasters International has helped people from diverse backgrounds become more confident speakers, communicators and leaders. For information about local Toastmasters clubs, please visit www.toastmasters.org.